There will not be tutoring after school today, Wednesday, April 13th. Thank you!
If you're interested in sending your student to summer camp, please register using the following link.
https://forms.office.com/r/mSxuK1KLJf
Students must be registered to attend. If you register and then decide not to attend, we can easily correct that. Thanks!
Sarris Candy orders are here! Please stop by the school's front office anytime this week to pickup your order.
Important Dates this Week: Our Spring Book Fair will be open Monday-Thursday 📚 ☀️ Monday: 4th grade's college visit to Fairmont State University Wednesday: Easter Celebration 2:15 (visitors must have photo ID to sign in and attend) Thursday: 12:30 dismissal Friday: No school Monday: No school for students
Easter Egg Hunt Rock Cave Elementary playground 4/16/22 at noon Ages: 1-12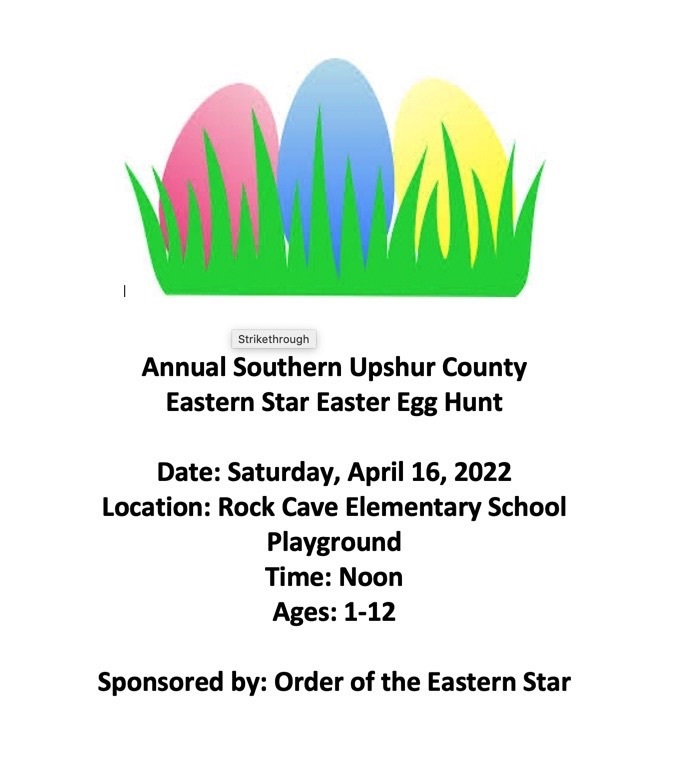 Tomorrow's school dance is canceled. We will be rescheduling it. A new date is forthcoming. Have a great evening!
Good Morning! Our phones at FCES aren't allowing outside calls to come in or out at the moment. If you need to contact us, please call 304-472-5480 and dial extension 2500. You can also email
kbaisden@k12.wv.us
.
Our Spring Book Fair will be open Monday, April 11th - Thursday, April 14th!
Reminder: Sarris Candy orders are due tomorrow, March 9th!
Monday: PTO meeting 3:45 Tuesday: End of 3rd quarter Wednesday: Sarris Candy orders due Sunday: Daylight Savings Have a great week!
Reminder: Sarris Candy orders are due March 9th!
Family Teacher Conferences are scheduled for Thursday, March 3rd, from 4-6pm. We look forward to seeing you!
We are following Wednesday's lunch menu today. We will be serving French bread pizza.
Reminder: Please send your child's permission slip in for Barn Hill Preserve this morning. The activity will take place first thing this morning. If you've misplaced the form, send in a handwritten note granting them permission.
Students have a permission slip that needs signed & returned by Monday. It is for Barn Hill Preserve. You don't have to purchase anything, but in order for your child to participate it must be signed. PTO 3:45 this evening. Dance 5:30-7 ($2 admission), please bring your child in to sign him/her in.
Due to tomorrow's delay, candid & group pictures have been rescheduled for Monday, January 31.
Due to tomorrow's delay, group and candid pictures have been rescheduled for Thursday, 1/27/22. Spring pictures and class pictures are still set for February 7th.
Tomorrow's cook's choice lunch will be pizza. We are looking forward to a wonderful week!