Meat stick orders will be available to pick-up at the school on Friday from 1-5PM. Thank you!
Tomorrow starts Red Ribbon Week! Wear red tomorrow for Really Excellent Decisions! We will also send a paper home for the rest of the week!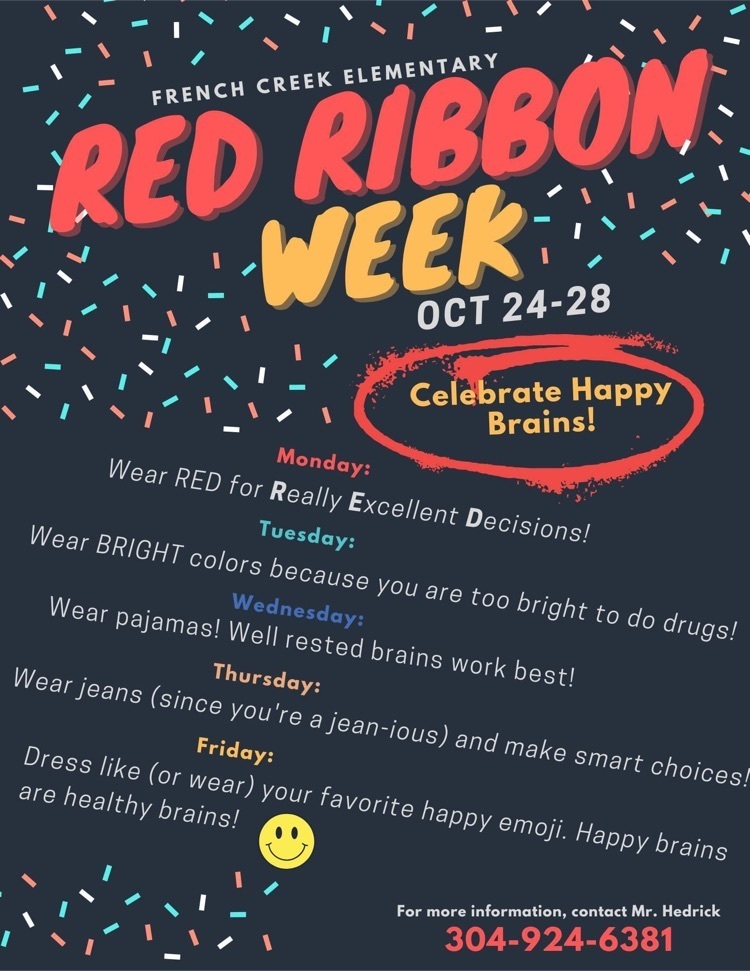 Tomorrow is picture day and Family Conferences from 4-6PM! We can't wait to see you!
Good evening, this is a friendly reminder that French Creek Elementary students will not attend school on Monday due to training for staff. We will see you back at school on Tuesday!
Summer school students MUST HAVE a signed permission slip in order to attend tomorrow's trip. They must also have swimwear, a beach towel, sunscreen and a change of clothes. The pool will not allow them to swim in street clothes, they must have swimwear.
Summer school students must have their permission slip for Friday's trip in order to attend. Please sign and return!
YEARBOOKS HAVE ARRIVED! Students in summer camp today will bring their yearbook home. Everyone else is welcome to pick-up between 8-1 Monday-Friday. 🤩🤩🎉🎉
We hope to see you for our end of year events tomorrow! 8:30: Doors open (ALL visitors must have a photo ID) 9:00: Spring Concert 10:00: Awards Ceremony 1:00: 5th Grade Graduation 1:30: PreK Graduation
Tomorrow is our end of year celebration for students! As a reminder, all students must have a signed waiver to participate. They need to bring extra clothes, sunscreen, a towel and shoes that are easy to slip off. Many of our inflatable rentals have water, so they will have the opportunity to get wet!
Important events and dates are being sent home with each child today. A copy is posted on our Facebook page and website!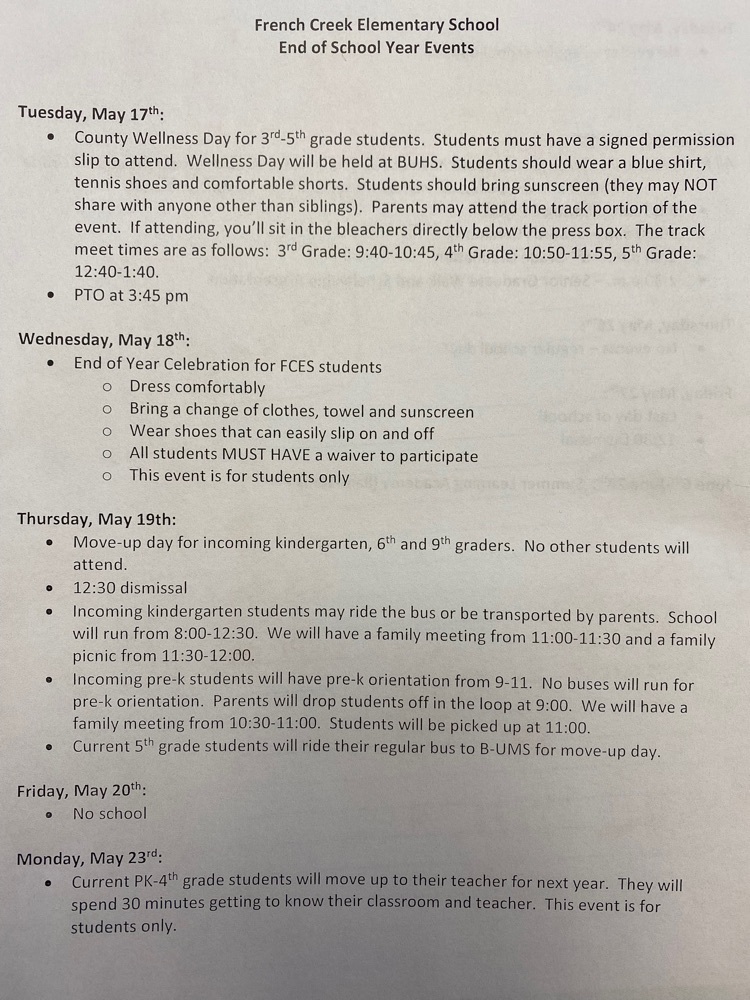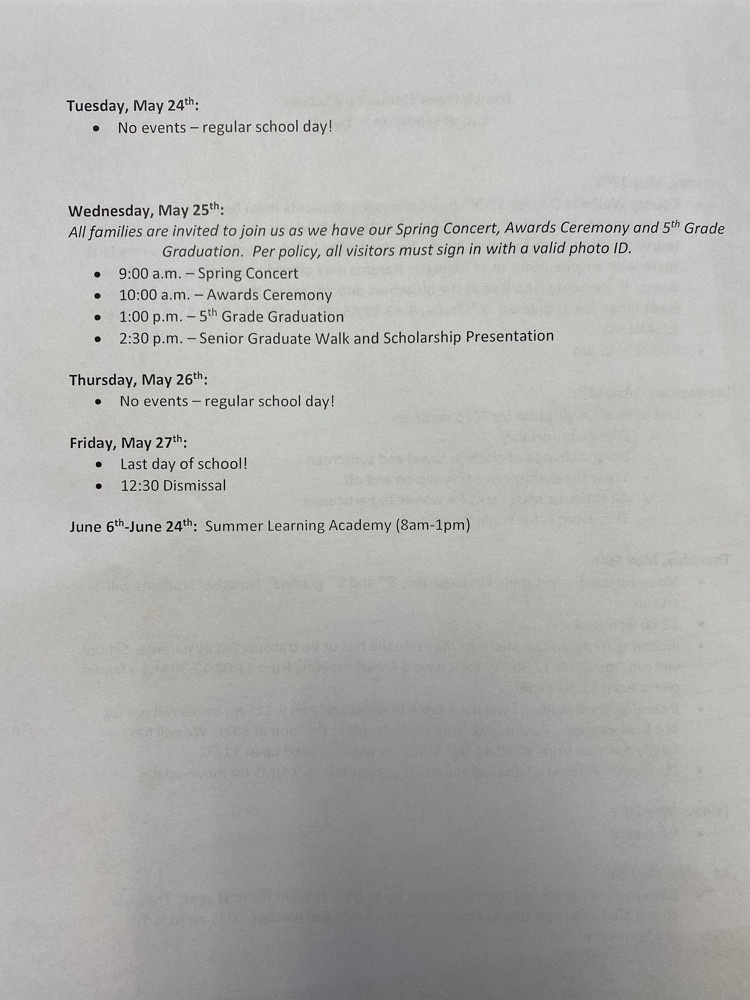 Upcoming Dates: 5/16: 3rd-5th Writing Assessment 5/17: 3rd-5th County Wellness Day (must have permission slip) 5/18: End of Year Celebration (students only—must have signed waiver) 5/19: Kindergarten Move-Up Day 12:30 Dismissal & PreK Orientation 9-11 (only incoming PreK and Kindergarten students will attend this day) 5/20: No School 5/23: Move up day for students (they will find out their teacher for next year) 5/25: Spring Concert, Awards Ceremony and Graduation (beginning at 9am) 5/27: Last day of school 12:30 dismissal
Don't forget about Paint Night at 6:00 this evening! Dinner will be provided. We have room for extra families, so please join us!
Our final PTO meeting for this year will be held on Tuesday, May 17, at 3:45 pm.
Due to internet issues, students were unable to take their math assessment today; therefore, they will take it tomorrow. Please help your child get a good night's sleep and eat a healthy breakfast. We are excited to see how much they've grown this year! 🎉🎉 We will have our writing assessment on Monday. ☺️
3rd-5th graders will take their state assessment in math tomorrow. Please make sure your child gets a good night's rest tonight and eats a healthy breakfast in the morning. Students need to be at school by 7:45 a.m. Don't forget to send them off with a few words of encouragement in the morning! ☺️
Join us May 19 for Kindergarten Move-Up Day and PreK Orientation!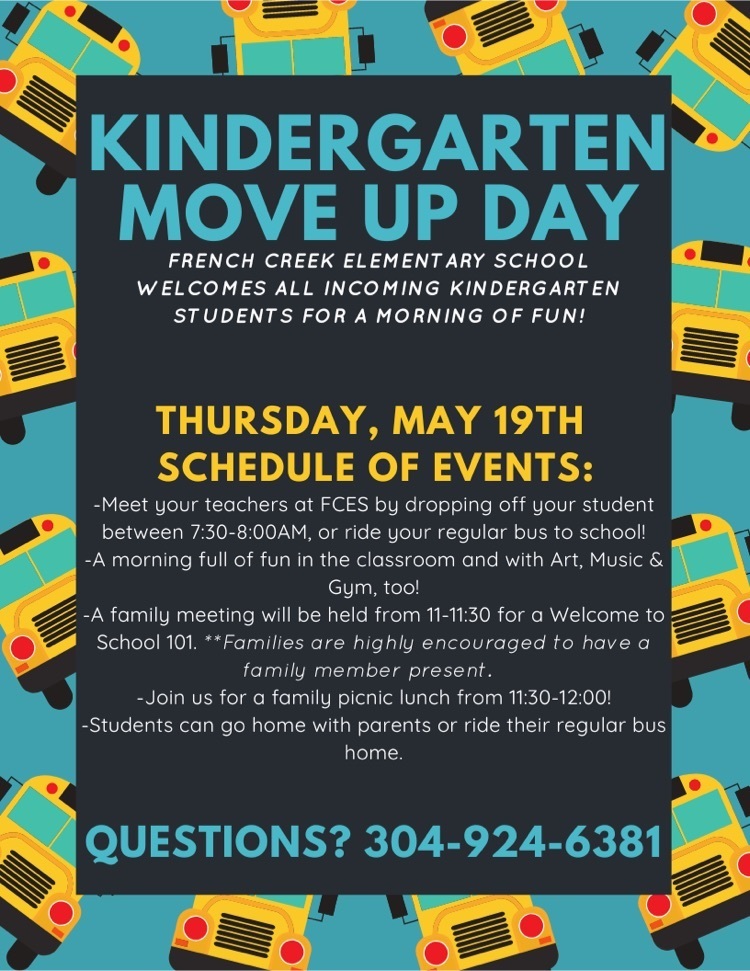 Tomorrow's PTO meeting will be rescheduled.
Don't forget about our carnival happening today from 12-4! We have concessions, cake walk, vendors, games, prizes, and much more! We hope to see you!
If you're interested in sending your student to summer camp, please register using the following link.
https://forms.office.com/r/mSxuK1KLJf
Students must be registered to attend. If you register and then decide not to attend, we can easily correct that. Enrollment is open to all incoming K-5 students. Field trips every Friday! Classes will include cooking, gardening, PE, math, reading, art, music, and health.